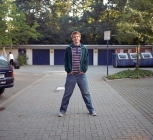 Ethan Lindsey
I am a digital and audio journalist based in Los Angeles, Calif., where I currently am helping a startup, called All Day, build their editorial team and construct their editorial vision. I "am bullish on the future of the news industry" and am interested in how news will live and be distributed in the near-term future.
Previously I was the senior digital editor, acting managing editor, and a producer for the national business radio program Marketplace. The program is one of the most popular broadcast business news shows in the U.S., with more than 6 million listeners. I won a Peabody Award in 2009 for my work with OPB.

Besides my radio work, I also occasionally freelance for print outfits. Plus, I have flickr page for all my photos from my travels, a semi-regular podcast, and a blog.